Daniel Kelly
Daniel Kelly have a short bio with brief information on their background. Please view the link below for more information.
Find helpful information in our digital library.
Posts for tag: tooth decay
By Daniel and Ellen Kelly, DMD
April 14, 2015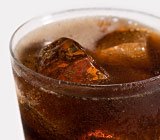 Your teeth were designed to last you a lifetime, so you should do everything you can to protect them. This includes guarding them against dental erosion. However, many people may not know for sure what dental erosion is, much less how or why they need to guard against it.
Dental or tooth erosion is the irreversible loss of tooth enamel from chemical attack by acids. Eating or sucking acidic foods such as lemons is a good example. But most people are shocked to discover that it can also be caused by their favorite sodas (carbonated beverages), natural fruit juices, energy and sports drinks — especially with excessive consumption. It takes the saliva, nature's protection, at least 30 to 60 minutes to neutralize the effects of acid, so only one acidic drink an hour causes your teeth to be continually bathed in acid. And this is an important fact to know, because if your mouth is acidic all the time, this will promote tooth decay.
Will brushing help out with prevention?
When it comes to dental erosion, brushing immediately after acid consumption can actually make it worse by accelerating the erosion process. This is because the acids in these drinks (and some foods) actually dissolves tooth enamel and softens the tooth surface. These newly softened surfaces can literally be brushed away if you brush before your saliva has a chance to try to reverse the process. If done often, you could even brush away your enamel! For this reason, you should wait at least 30 to 60 minutes before you brush your teeth after consuming any of these products.
So what can you do to prevent dental erosion?
One important step that you (and your family) can do to help prevent dental erosion is to limit the amount of these beverages you drink. Instead, try drinking calcium-rich milk or water and saving your favorite acidic beverage for a special treat that you consume preferably with a meal. Try reducing the number of these drinks you consume over a period of time. If you must drink an acidic beverage avoid swishing it in the mouth and use a straw to reduce the contact between the acid and your teeth.
Just remember that once your dental enamel has eroded, it is gone forever. So you should follow these simple tips now to protect your smile and future.
By Daniel and Ellen Kelly, DMD
January 19, 2015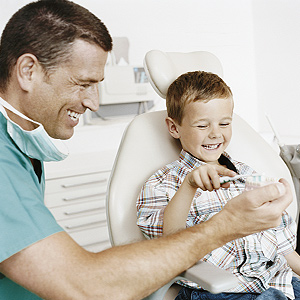 While the prevention and treatment of tooth decay has improved dramatically over the last half century, it continues to be a major health issue, especially for children. One in four children 5 and younger will develop some form of the disease.
Although tooth decay in children stems from the same causes as in adults — the presence of decay-causing bacteria in plaque, unprotected teeth and the right mix of carbohydrates like sugar left in the mouth — the means by which it occurs may be different. We even define tooth decay differently in children as Early Childhood Caries (ECC), "caries" the dental profession's term for tooth decay.
ECC highlights a number of cause factors specific to young children, such as: continuous use of a bottle or "sippy cup" filled with juice or other sweetened beverages; at-will breast-feeding throughout the night; use of a sweetened pacifier; or regular use of sugar-based oral medicine to treat chronic illness.
If you noticed sugar as a common denominator in these factors, you're right. As a primary food source for bacteria, refined sugar is a major trigger for the disease especially if it constantly resides in the mouth from constant snacking or sipping. In fact, it's the primary driver for a particular pattern of decay known as Baby Bottle Tooth Decay (BBTD). This pattern is specifically linked to sleep-time bottles filled with juice, milk, formula or other sweetened beverages, given to an infant or toddler to help soothe them through the night or during naps.
All these factors cause a cycle of decay. To interrupt that cycle, there are some things you as a parent should do: perform daily hygiene with your child to reduce decay-causing bacteria; reduce the amount and frequency of carbohydrates in the diet, particularly sugar; and protect the teeth by having us apply fluoride or sealants directly to the teeth.
Early tooth decay could affect your child's oral health for years to come. With a little care and vigilance, you improve your chances of avoiding that encounter.
If you would like more information on preventing tooth decay in children, please contact us or schedule an appointment for a consultation. You can also learn more about this topic by reading the Dear Doctor magazine article "Dentistry & Oral Health for Children."